ADAPTADOR DE LENTE COMMLITE CM-EF-EOSM EF LENS A EOSM CON ELECTRONIC IRIS Y AF
Model: CM-EF-EOSM
Compatible with EF Series Lens to EOS M Cameras
Auto Focus Function & Aperture Control
EXIF Signal Transmitting & IS Function
USB Port For Firmware Update
​​​​​​​​​​​​​​

The Commlite Lens Mount Adapter CM-EF-EOSM allows you to use an EF lens on an EOSM camera,
and also features functions like USB Firmware Upgrading, EXIF Info. Transmitting; Support Auto Focus
Function; Electronic Aperture Control; Built-in IS Stabilization Function; Gold-plated Contact Pins, etc.
Supports AF Function
Commlite CM-EF-EOSM lens adapter utilizes the lens' Gold-Plating Contact, which can help to connect your
​​​​​​​EF/EF-S Lens to EOSM Camera, and enables AF.
Supports EXIF Transmitting & Electronic Aperture Control
The Commlite CM-EF-EOSM adapter supports the 'Aperture Control' which allows you to digitally control
the lens' aperture from the Camera.
Supports IS Stabilization
The Commlite CM-EF-EOSM lens mount adapter fully supports the IS function from the EF lenses.
Powerful and Stable
The adapter housing is made of aluminum alloy which makes it more stable and durable. The1/4 standard
thread at the bottom allows the adapter to be mounted to a Stratus cage frame to give it extra support. It can
​​​​​​​also be connected to a tripod and other supports.

Compatible Lens- Canon
EF 24mm F1.4L II USM
EF 24mm F2.8 IS USM
EF 35mm f/1.4L USM
EF 35mm f/2 IS USM
EF 40mm f/2.8 STM
EF 50mm f/1.4 USM
EF 50mm F1.2L USM
EF 50mm F1.8 STM
EF 85mm F1.2L II USM
EF 100mm f/2 USM
EF 100mm 2.8L Macro IS USM
EF-S 17-55mm F2.8 IS USM
EF-S 17-55 f/2.8 IS USM
EF-S 18-55mm f/3.5-5.6 IS II
EF-S 18-135mm f/3.5-5.6 IS
EF 55-200mm f/4.5-5.6 II USM
Compatible Lens- Tamron
17-35mm f/2.8-4 Di SP AF
SP AF 17-50mm f/2.8 XR Di II LD IF
28-75mm f/2.8 XR Di LD Aspherical IF SP AF
SP AF 200-500mm F/5-6.3 Di LD (IF)
Compatible Cameras:
Canon: EOS M6, EOS M100, EOS M5, EOS M10, EOS M50
Gold-plated Contact
Made of Aluminum Alloy
Telescopic Needle Type
Compatible with 1/4-20 Support System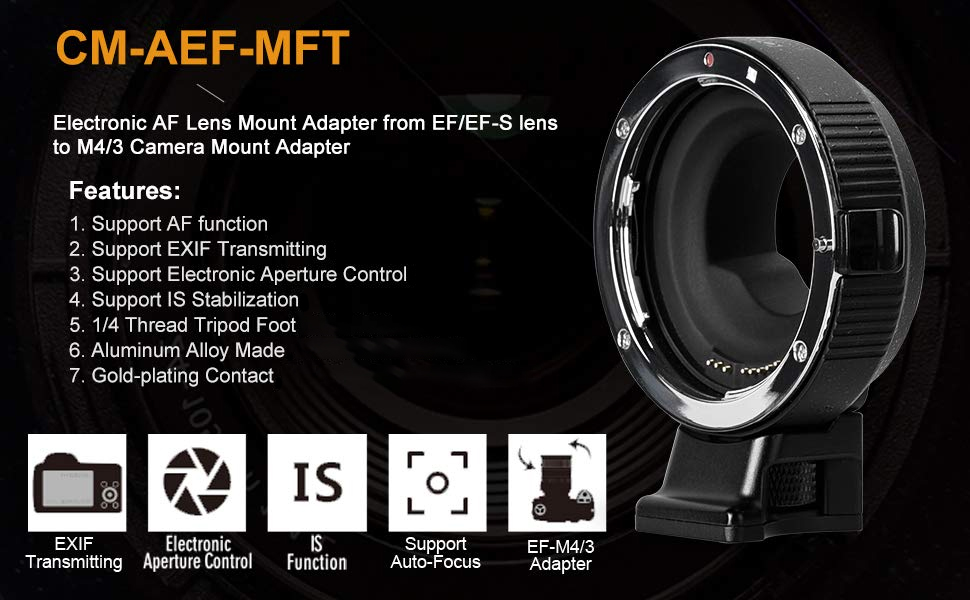 | | | | | | | | | | | | |
| --- | --- | --- | --- | --- | --- | --- | --- | --- | --- | --- | --- |
| | | | | | | | | | | | |
| | CM-EF-EOS-M | CM-EF-EOS-R | CM-EF-FX | CM-AEF-MFT | CM-EF-E-HS | CM-NF-NEX | CM-ENF-E1-PRO | CM-NF-MFT | CM-EF-NEX-B | CM-EF-EOSM-BOOSTER | CM-AEF-MFT-BOOSTER |
| Supported camera | Canon EOS M Camera | Canon EOS R Cameras | Fujifilm X Camera | M4/3 Camera | E-Mount Camera | Sony NEX Camera | Sony E-Mount Camera | M4/3 Camera | Sony NEX Camera | Canon EOS M Series Cameras | M4/3 Camera |
| Supported lens | EF/EF-S Series Lens | EF/EF-S Series Lens | EF/EF-S Series Lens | EF/EF-S Series Lens | EF/EF-S Series Lens | Nikon Lens | Nikon Lens | Nikon Lens | EF/EF-S Series Lens | EF/EF-S Series Lens | EF/EF-S Series Lens |
| Focus type | Auto focus | Auto Focus | Auto Focus | Auto Focus | Auto Focus | Manual Focus | Auto-Focus | Manual Focus | Auto-Focus | Auto-Focus | Auto-Focus |
| EXIF Transmitting | ✓ | ✓ | ✓ | ✓ | ✓ | | ✓ | | ✓ | | ✓ |
| Detachable 1/4 Tripod foot | ✓ | ✓ | ✓ | ✓ | ✓ | ✓ | ✓ | ✓ | ✓ | ✓ | ✓ |
| Weight | 0.55 lbs. | 0.39 lbs. | 0.33 lbs. | 0.57 lbs. | 0.57 lbs. | 0.47 lbs. | 0.62 lbs. | 0.54 lbs. | 0.61 lbs. | 0.45 lbs. | 0.45 lbs. |
| Size | 4.4*3.9*2.3in | 4.4*3.9*2.3in | 4.4*3.9 *2 .2in | 4.4*3.9*2.2in | 4.4*3.9*2.3in | 4.4*3.9*2.3in | 4.4*3.9*2.3in | 4.4*3.9*2.3in | 4.4*3.9*2.3in | 4.4*3.9*2.3in | 4.4*3.9*2.3in |


​​​​​​​Shipping Weight (lbs): 1
Shipping Dimensions (in): 5 x 5 x 3

LA CAJA INCLUYE
1x Lens Adapter
1x Instruction Manual

Back Installation: EOS-M Mount
Camera Compatibility: EOS M Camera
Compatible Lens: EF/EF-S Lens
Compatible Mount: EOS M Mount
Fixture Weight: 120g
Front Installation: Canon EF/EF-S Mount
Lens-Mount Outer Diameter: 66.6 x 26mm
UPC Code: 6959985301722