COMICA CVM-WM300B WIRELESS DUAL MIC KIT (LI-ION) (1 MIC, 1 LAV, 1 TX, 1 RX)
MODEL: CVM-WM300B
120m maximum range
Use a wireless handheld mic and lavalier mic simultaneously with the same receiver
Single-switch control alternates transmitter between A and B groups
Live signal level monitoring on transmitters and receiver
96 channels to choose from between A and B groups
IR channel syncing
RF signal has adjustable power settings for close/long range

96-CHANNELS
The CVM-300(B) Wireless lavalier and handheld microphone system can be used for multiple devices
​​​​​​​ working together. The adjustable RF signal strength or auto-scanning can be used for quick channel selection
to A/B group.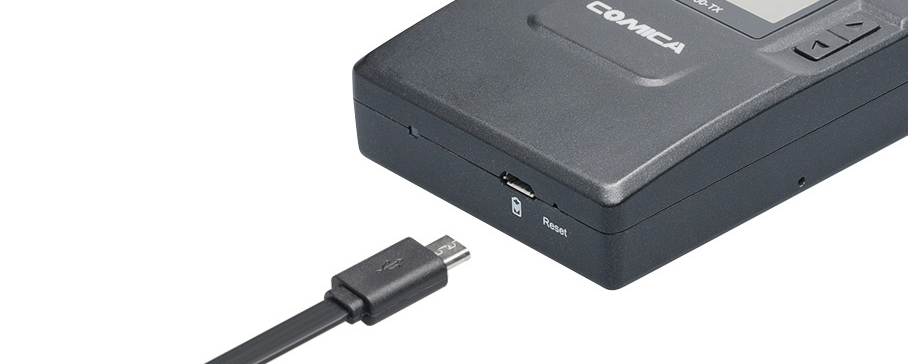 LONG STANDBY TIME
The wireless transmitter and receiver contain built-in rechargeable lithium batteries with a standby time up to
10 hours. A MICRO USB input is located at the bottom and is conveniently for charging. The handheld transmitter/microphone is powered by 2 AA batteries (not included).
LONG WORKING DISTANCE
The working distance of the CVM-WM300B is up to 394 feet with direct line of sight and up to 263 feet
without direct line of sight.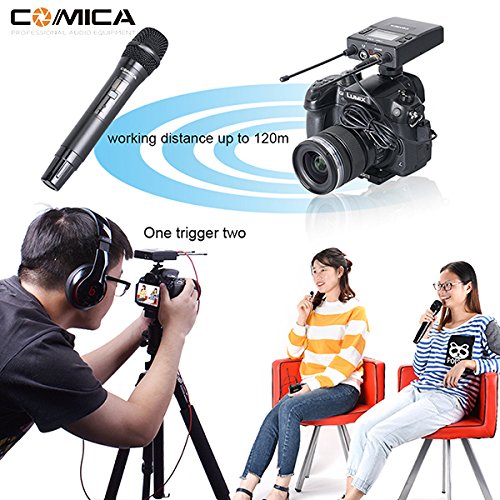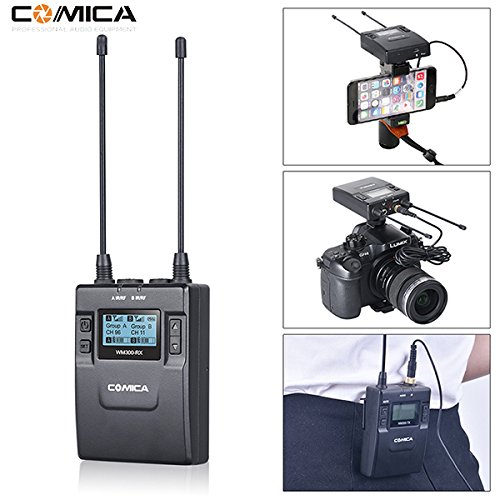 LINE IN & MIC UNIQUE USAGES
There are multiple ways in which the wireless system can be set up, such as one transmitter can be r
​​​​​​​esponsible for vocal pickup, and another transmitter can be responsible for the background music.


Shipping Weight (lbs): 7.5
Shipping Dimensions (in): 15 x 12 x 6

LA CAJA INCLUYE:
1 x Handheld Transmitter
1 x Lavalier Transmitter
1 x Receiver
1 x 3.5mm TRRS Mic Audio Input Cable
1 x TRS Audio Output Cable
1 x XLR Audio Output Cable
1 x Micro USB Charging Cable
2 x Belt Clip
2 x Camera Cold-shoe Mount
1 x Wind Muff
1 x Portable Box

Data Sheet: CVM-WM300B Downloadable PDF

Antenna: Receiver & Transmitter: 1/4 Wavelength Wire Antenna | Handheld Microphone Transmitter: PCB Antenna
Audio Distortion: <0.5%
Battery: Receiver & Transmitter: Polymer Lithium Battery 3.7V 200mAh | Handheld Mic Transmitter: AA Batteries x 2 pcs
Channels: 96
Dimensions: Transmitter: 3.3 x 2.5 x 0.9 in. | Receiver: 3.3 x 2.5 x 0.9 in. | Handheld Mic Transmitter: Max Diameter: 2.10 x 9.96 in.
Frequency Bands: Group A: 520.000MHz ~ 548.500MHz | Group B: 550.000MHz ~ 578MHz
Operating Temperature: 32℉ ~ 122℉ (0°C ~ 50°C)
Receiver Sensitivity: -95dBm
Signal-To-Noise-Ratio: >65dB
Sound Delay: <20ms
Storage Temperature: -4℉ ~ 140℉ (-20°C ~ 60°C)
Stray Radiation: <-60dBc
Transmission Power: 10dbm/15dbm
UPC Code: 6971120980982


​​​​​​​