E-IMAGE HORIZON ONE GIMBAL y HB20 DUAL GRIP HANDLE
Model: H1-HB20-KIT
Max payload of 8 lbs (3.6 kg)
Full 360 degree movements on all three axis
Advance steady computing system providing high precise stabilization
Universal quick release plate, compatible with standard 501 PL quick release plates
Dream follow mode allows 360 degree spin on the roll axis
12 hour run-time off four included 18650 batteries
Adjustment Range: 5″ – 19″
Easy Attachment
x8 1/4″-20 Thread Holes

HORIZON ONE
The E-Image 3-axis handheld motorized gimbal stabilizer is designed for DSLR and mirrorless cameras
weighing up to 8 lbs (3.6kg). It uses the latest steady computing technology for the brushless motors to
provide high precise stabilization. The Horizon One features 5 different operational modes, including
single-axis and dual-axis follow modes.
Max Payload
The Horizon One can hold a maximum combined payload of 8 lbs, allowing you to use a wider range of
camera and lens combinations and accessories.

Multiple Operational Modes
Pan follow
Free follow (Pan & Tilt)
All locked
Sport follow
Dream follow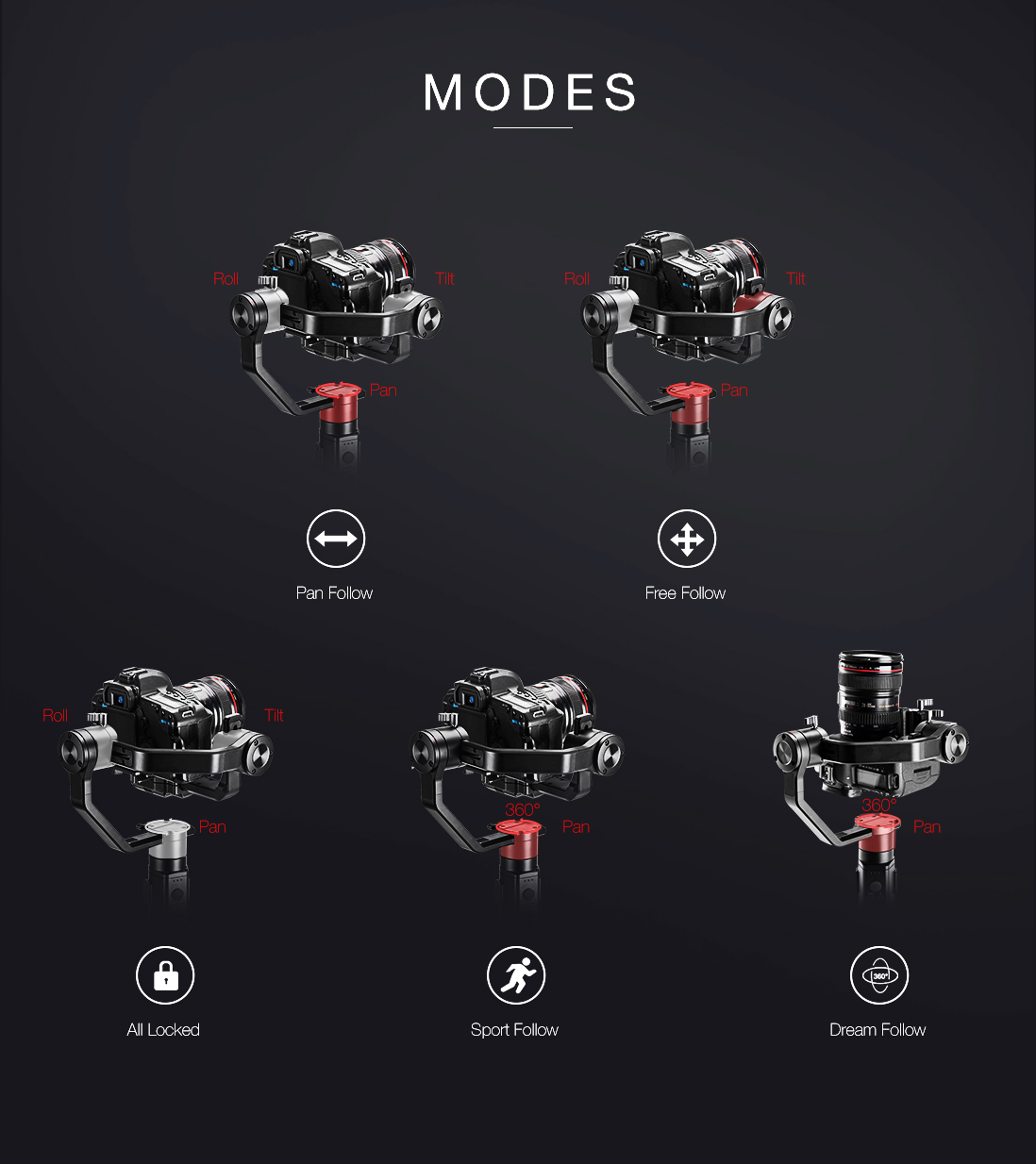 Controlling the Horizon One or Horizon Pro gimbal is a breeze with E-Image's HB20 Dual Grip Handle!
Constructed out of heavy-duty aluminum, the HB20's sturdy frame is specifically designed to make gimbal
operation much easier! After mounting the HB20 to the Horizon, grip handles allow you to control the gimbal's movement with your upper body instead of just your wrist. The shift in weight greatly increases stability and
decreases arm fatigue! Depending on your shooting preference, you can operate the Horizon either over-handed
or under-handed. The built-in mini tripod allows you to easily calibrate your Horizon hands-free and provide a firm base to set it on when not in use.
App Download Links



Shipping Weight (lbs): 13
Shipping Dimensions (in): 22x16x10

LA CAJA INCLUYE:
1 x Horizon One Gimbal
1 x Mini Tripod
1 x Quick Release Plate
1 x Riser Plate
1 x Lens Support with Screw
1 x Carrying Case with Strap
1 x Battery Charger
4 x 18650 Batteries
1 x Control Cable Set
1 x 1/4"-20 to 3/8"-16 Screw Adapter (Installed on gimbal)

Quick Start Guide:

Battery Operation Time: 12h - 18h
Battery Type: 18650
Operating Temperature: -10°C ~ 45°C
Operating Volts: 11.2V - 16.8V
Payload: 1lb - 8lbs (500g - 3600g)
Power Consumption: 150mA-7600mA
Working Angle Pan Motor: 360°
Working Angle Roll Motor: 360°
Working Angle Tilt Motor: 360°