E-IMAGE HR-FOCUS-KIT HORIZON ONE GIMBAL CON FOLLOW FOCUS SYSTEM
Model: HR-FOCUS-KIT
8 lbs Max Payload
360° Movement
Precise Stabilization
501 Quick Release
Inception Mode
12 hour run-time
Auto and Manual Calibration
Quiet Brushless Motors
Compatible With Most Lenses
​​​​​​​

The Horizon One expansion port allows for the addition of E-Image's follow focus system. The system
includes a standard 15mm rod that will attach the motor to the lens and the control wheel to the gimbal.
The wireless control wheel allows for uninterrupted movement when controlling the motor. Be in complete
control over focus with manual A-B limits, auto calibration, precise control, and easily adjust focus on the
ly without having to stop and touch the lens.

HORIZON ONE
The E-Image 3-axis handheld motorized gimbal stabilizer is designed for DSLR and mirrorless cameras
weighing up to 8 lbs (3.6kg). It uses the latest steady computing technology for the brushless motors to
provide high precise stabilization. The Horizon One features 5 different operational modes, including
single-axis and dual-axis follow modes.
Max Payload
The Horizon One can hold a maximum combined payload of 8 lbs, allowing you to use a wider range of
camera and lens combinations and accessories.


Multiple Operational Modes
Pan follow
Free follow (Pan & Tilt)
All locked
Sport follow
Dream follow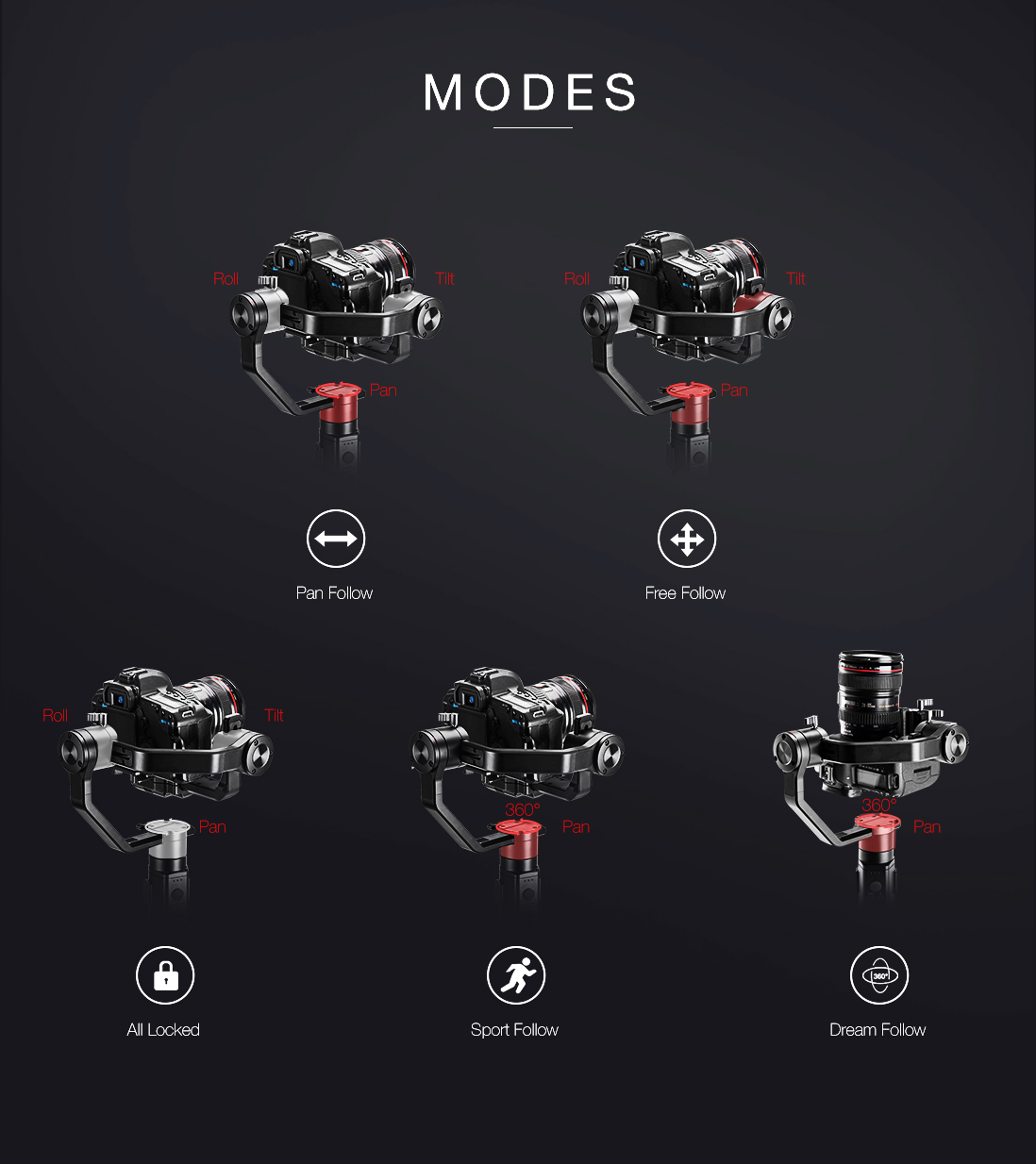 App Download Links
Google Play Store
​​​​​​​

Shipping Weight (lbs): 14
Shipping Dimensions (in): 24x18x12

LA CAJA INCLUYE:
1 x Horizon One Gimbal
1 x Mini Tripod
1 x Quick Release Plate
1 x Riser Plate
1 x Lens Support with Screw
1 x Carrying Case with Strap
1 x Battery Charger
4 x 18650 Batteries
1 x Control Cable Set
1 x 1/4"-20 to 3/8"-16 Screw Adapter (Installed on gimbal)
1 x 15mm Rod
1 x Type-C to Type-C Cable
1 x Focus Wheel
1 x Brushless Motor
1 x Adjustable Gear Ring

Battery: LiPo7.4V, 300mAh
Battery Operation Time: 12h - 18h
Battery Type: 18650
Brand: E-Image
Fixture Weight: Motor: 7 Ounces
Controller: 2.8 Ounces
Frequency: 2.4G
Gearing: 0.8 Mod, 40 Teeth
Noise Db: <25dB
Operating Temperature: Follow Focus System: -20°C~55°C
Gimbal: -10°C ~ 45°C
Operating Volts: Follow Focus System: 7.4V
Gimbal: 11.2V - 16.8V
Payload: 1lb - 8lbs (500g - 3600g)
Power Consumption: Gimbal: 150mA-7600mA
Rod Compatibility: 15mm
Torque: 0.18Nm
Transmission Distance: 300 Feet
UPC Code: 00847983030835
Working Angle Pan Motor: 360°
Working Angle Roll Motor: 360°
Working Angle Tilt Motor: 360°​​​​​​​