IKAN ELITE UNIVERSAL TABLET TELEPROMPTER KIT
Model: PT-ELITE-U
Universal Tablet Mount
Compatible with most tablets between 7 to 10″
Min Size: 5 x 7.5″ – Max size: 8 x 10.5″
Includes Industry Standard 15mm Baseplate and 12″ Rods
High Quality 70/30 Teleprompter Glass
Lightweight & Easy Set-Up
Compatible With Any Tablet Teleprompter Software Application (Software and Tablet Not Included)


Looking for an inexpensive way to integrate your tablet into your everyday video production workflow?
ikan has the solution. The Universal Tablet Teleprompter Kit is a complete out-of-the box solution that
turns your tablet into a field ready teleprompter. Based on our popular Elements camera support system,
ikan's Universal Tablet Teleprompter Kit is a portable through the glass teleprompter when you need it
and a robust 15mm rod based camera support system when you don't. Compatible with any iPad,
Android, or Windows teleprompter software application and complete with ikan's EV2 Adjustable
Camcorder Baseplate, 12" rods, new and improved high quality 30/70 prompter glass with frame,
and an adjustable universal mount that's compatible with the majority of compact tablets out on the
market.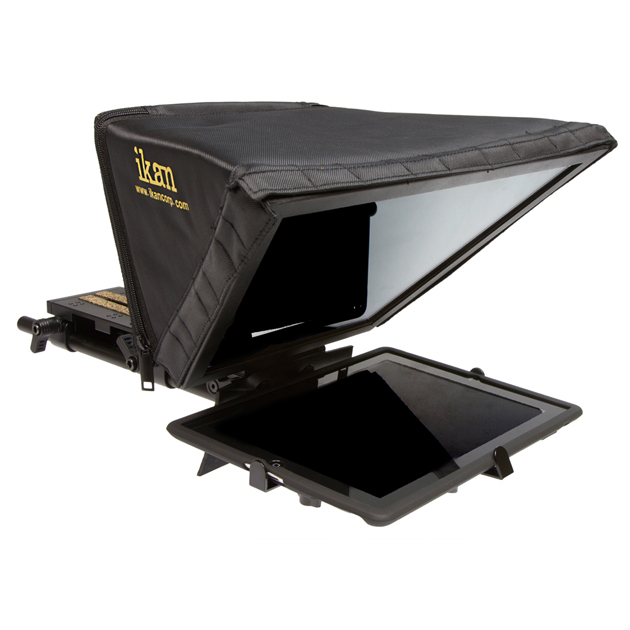 LA CAJA INCLUYE
Tablet Mount
High Quality 30/70 Prompter Glass with Frame and H...
Elements 15mm Rod Based System

Brand: Ikan
Brightness: Varies Based on Tablet
Contrast Ratio: Varies Based on Tablet
Power Consumption: Varies Based on iPad Model
Range: Varies Based on Tablet
Resolution: Varies Based on Tablet
UPC Code: 847983008711
Viewing Angle: Varies Based on Tablet
​​​​​​​